Geocaching is essentially Pokemon go! The children use a GPS device to complete a trail – a modern take on traditional orienteering. The Kent Country Parks offer geocaching hire for just £5 per group, on certain dates across the school holidays, which is a great way to occupy the family for a few hours.
We recently did a geocaching trail at a local country park during the holidays – it was brilliant! However, there are a whole host of routes available completely free, which you can access via a mobile phone or any device with mobile data. On my hunt for inexpensive entertainment for the children, I discovered a website which has codes for free geocaching trails all over Kent and the surrounding area.
It is separated into towns/areas so that you can find one near you. Each row tells you about a different trail so that you know how long the walk will be (you can pick one suitable for the age of your children) and how many caches that trail has; these are the specific co-ordinates/landmarks to find. It is very much like a treasure hunt, and children love it! (Especially if they have a reward of chocolate treasure at the end!) Here is the web address you need to get started: http://www.devoke.ukwalkers.com/
If you are a member of the National Trust, many of their sites have geocaching devices, which are available at no cost at all. They also have a number of different trails accessible on your phone, at many National Trust locations across the country. Information on this and geocaching codes can be found here: https://www.nationaltrust.org.uk/geocaching.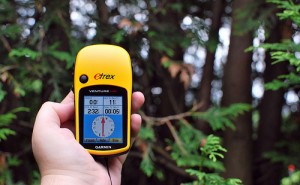 If you are headed for a day out to the woods, beach or a park area, there is probably a trail to be found! Be sure to have quick a search online before you leave home, and it always helps to bring a delicious treat along to reward the children for completing their hunt. It is a great way to motivate the little ones to get outdoors and get those legs moving! If you have any device addicts, they might also be swayed if they get to be in charge of the phone or handset – they'll be getting fresh air and exercise without even realising it!